Krugman: "Should President Obama be willing to print a $1 trillion platinum coin if Republicans try to force America into default? Yes, absolutely. He will, after all, be faced with a choice between two alternatives: one that's silly but benign, the other that's equally silly but both vile and disastrous. The decision should be obvious."
But not all coins are flat and round. In fact, some are positively uncoinlike:

Leonardo Da Vinci's famed Equestrian statue is featured on this pair of square silver 500 Tugrik coins from Mongolia:


A fan-shaped Proof sterling silver 10-zloty commemorative coin marking the occasion of the World Exhibition Expo 2005, held in Aichi, Japan, was issued in March by the National Bank of Poland:

The most oddly shaped coin has to be the .999 fine silver 2002 $10 issue from the Republic of Nauru, an island republic located in the western Pacific Ocean. The Proof coin celebrates the introduction of the euro with a coin shaped in the outline of the nations that comprise the European Economic Union:

Somali Republic's 2004 commemorative dollar coin is shaped like a guitar to mark the 50th anniversary of rock and roll music and the Stratocaster guitar. The non-denominated side, left, is enameled. The multi-colored Guitar coins have proved unbelievably popular with coin collectors, guitar enthusiasts, Rock 'n Roll fans and the general public. They are designed after famous electric guitars, including the classic red and white Fender Stratocaster, an American Flag Stars and Stripes Gibson Flying V, a black Gibson Flying V, a pink star Guitar used by various rock stars including Gary Glitter and Abba, a blue Gibson X-Plorer and a yellow Klein. The coins are 1 Dollar legal tender coins and they are approximately 45mm (1.75 inches) long:
Source
: "Fleur de Coin" website
So, what shape should the US $1T coin take?
I'm partial to giving it the shape of the GOP elephant:

Or maybe the US Capitol dome.

What do you think?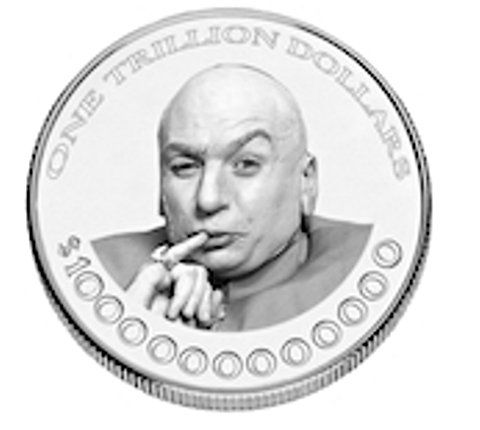 Talking Points Memo has a few more fun suggestions.